Cassia Gum Application for Wet Canned Pet Food
Owning a pet has always been a hobby for people but this trend has rapidly increased in years. It has become so common that one can find at least one pet in almost every house. So providing them good quality food, healthy and hygienic stay comes naturally. A variety of pet food brands are capturing the market with their offerings. So what does this pet food comprise that makes it different from normal food?
Pet Food Ingredients
Along with the fish meal, meat meal remains of carcasses, horse meat, sausages, there is a need for a binding agent, flavored stabilizers to keep all the ingredients intact and packed with aroma. Cassia powder thus plays an extraordinary role as a gelling agent in combination with carrageenan gum.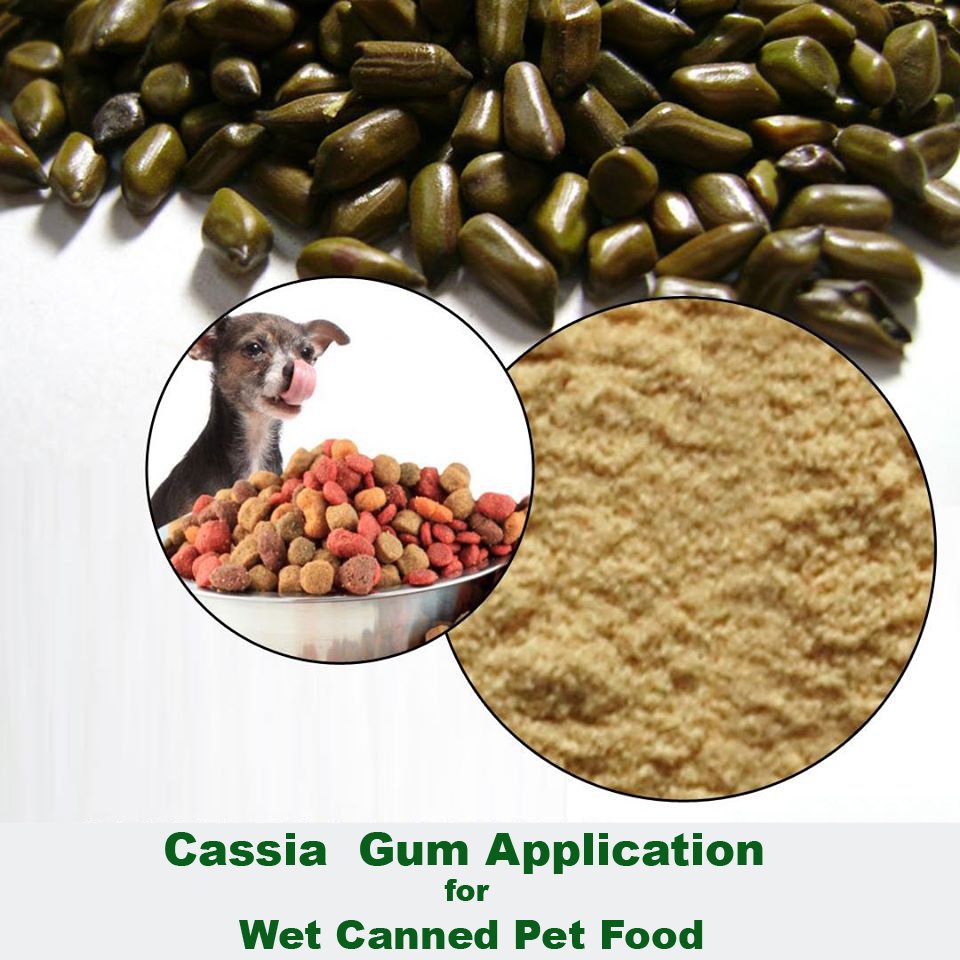 Cassia Gum
Cassia Gum Powder is manufactured from the endosperm layer of the seeds of a leguminous plant Cassia tora. The plant can be observed to be grown in most parts of India from November to January. India is one of the major producers of cassia gum.
Cassia gum powder is pale yellowish in color with a peculiar smell. With its solubility in hot water, it tends to increase the viscosity of the liquid upon cooling. Chemically it is a composition of Galactomannan with its constituents like mannose and galactose in the ratio 5 to 8:1. Cassia gum in combination with Carrageenan is used in wet canned food in order to improve the texture, appearance and also stabilize the product. Cassia gum is highly synergistic with other gums like xanthan gum, carrageenan gum and the resulting gum thus formed lasts long and has a rich appearance and texture. These properties make it optimum for pet food use.
In wet canned food binding agent is the key player in maintaining the integrity of the food. Solid and liquid components need to accumulate and coagulate in order to hold the content.  Cassia gum powder plays a challenging role here. It is added to the boiled water and chemically increases the viscosity of the liquid. This liquid is mixed with the meal and is finally packed in cans. The cans are then sterilized which can further protect the content from getting oxidized and foul.
However other gums can also be used for pet food like locust bean gum, but high-quality standards and cost-effectiveness of Cassia Gum prove to be economical in the manufacturing of wet canned food.
All these are natural gums that are derived from plants assuring lesser to no side effects upon consumption. They also are rich in polysaccharides which adds to the nutrient makeup of the food the pets consume.
The Bottom Line
Avlast Hydrocolloids, based in Ahmedabad and having enormous experience of around three decades in manufacturing and supplying industrial raw natural gum products. Gum and its derivatives have found multiple opportunities across various industries. The company's innovative vision and its investment in modern equipment have it possible for the Company's acclaim across industries that are present around the world.